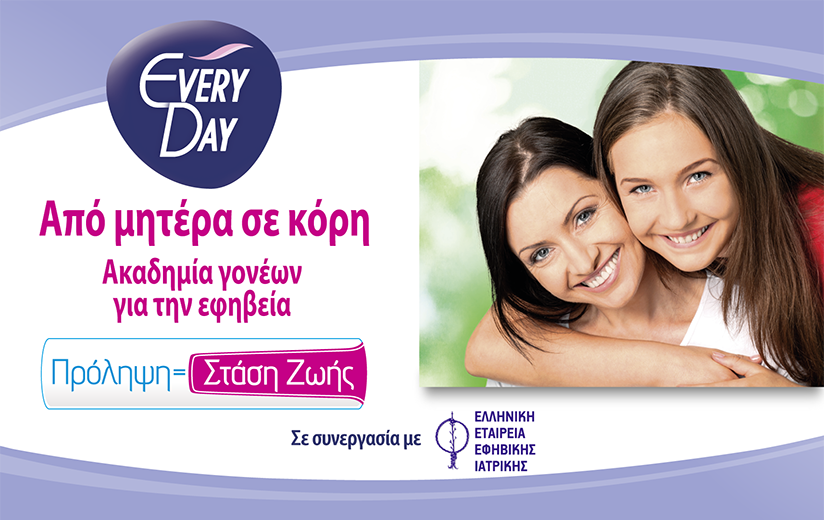 Press Release
Parent Academy for Adolescence. An innovative social action with the support of EveryDay
--------------------------------------------------------------------------------------------------------------------------------------------
Αthens, October 2016
---
8 two-hour free monthly parent meetings on the major issues of adolescence from distinguished, specialized scientists
The family is the first environment of children and contributes greatly to the physical or psychological health. What happens in puberty? What are the problems, the questions and the issues that concern parents daily?
EveryDay stands by teenage girls, but also by their family, assisting in their effort to manage the difficult period of adolescence in the best possible way. Therefore, EveryDay supports Parent Academy, a new social initiative of the Adolescent Health Unit (A.H.U.), Second Dept of Pediatrics, University of Athens, "P. & A. Kyriakou" Children's Hospital in cooperation with the Greek Adolescent Medicine Company.
Parent Academy is a free program of 8 two-hour meetings, where reputable scientists analyze, advise and discuss with parents important issues concerning adolescence, such us: prevention of risky behaviors (alcohol, substances etc.), smoking, mental health (anxiety, depression, low self-esteem), eating disorders (anorexia, bulimia), learning disabilities, technology, etc.
The objectives of the Academy are:
ü To support parents so that they can respond with success in their complicated and difficult role.
ü To develop parental skills so to help ensure early diagnosis of risky behaviors in children.
ü To improve communication within the family.
The "bell" at the school for parents will ring once a month -every second Wednesday- and free courses will take place in ALBA (address: Athens, Xenias 6th) from 17:30 to 19:30.
The Academy is part of the overall social program of EveryDay with the title "Prevention = Life Attitude" which includes various actions for adolescence, such us: digital library (www.everyday.gr ), experiential interactive workshops, Parents Academy, publications, speeches at conferences, presence of specialists of Greek Company Adolescent Medicine in television broadcasts, analyzing and providing advice on important topics of adolescence.